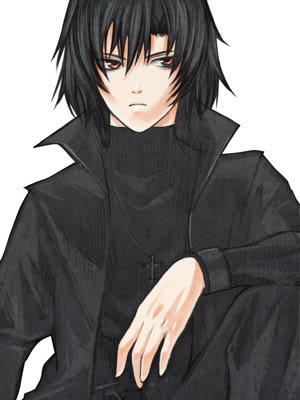 - - - - - - - - - - - -
Basics
- - - - - - - - - - - -
character name : Valdisk Unser
» alias/nickname: Val
» theme song: E-Nomine – Das Tier in Mir
» msn messenger addy: funny_enrico@hotmail.com
- - - - - - - - - - - -
Demographics
- - - - - - - - - - - -
» appearance: See picture.
» sex: Male
» sexual preference: Asexual
» mood | temper: Calm and collected, sometimes tending to simply watch a whole situation ( for example ) a fight, and then act on his own, based on what he saw. He's quite smart and prefers to think before punching someone in the face.
» family life: Parents unknown.
» interests | hobbies: Observing those who are near him.
» member rivals: --
» clubs/organizations: --
- - - - - - - - - - - -
Travel
- - - - - - - - - - - -
residential location: Onitoshi – New Arden
- - - - - - - - - - - -
fighting:
» wins: 0
» losses: 0
» draws: 0
» kills: 0
- - - - - - - - - - - -
Lifestyle
- - - - - - - - - - - -
» job: Bandit/Mercenary/Assassin
» class: Variable
» pay: 1-100 roll x 35 in Shinny
» pocket funds: $0
» saving funds: $1,000
» housing: Streets
» transportation: Walking
- - - - - - - - - - - -
Development
- - - - - - - - - - - -
Race: Spirit
Type: Onikonjou
Affinity: Magixal – Demonic Arts
-
EXP: 0
T-EXP: 0
JC: 0
PWC: 0 (Path)
-
Health: 100%
Stamina: 100%
Attribute Strength: Average
- - - - - - - - - - - -
Ability
- - - - - - - - - - - -
Transformations
» // --
Quest Abilities
» // --
Custom Abilities
» // --
- - - - - - - - - - - -
Techniques (see Technique page)
* first "required" starting tech is free, at honed level
* starting tech cannot cost more than 2 TEXP
- - - - - - - - - - - -
Physical
» // --
Magical
» // Magixal – Demonic Arts;
- Shapeshifting ( Honed )
Combine
» // none
- - - - - - - - - - - -
Participation
- - - - - - - - - - - -
Sagas Participated In
» // none
Quests Completed
» // none
- - - - - - - - - - - -
Inventory
- - - - - - - - - - - -
Equipment
» // none
Storage
» // none
- - - - - - - - - - - -
History / About Me: (optional, type as much as you like)
[quote]